This story is purely fictional and is not intended to represent a real family. Any similarities between this family and a real life family are purely coincidental. This is Part 1 of a three-part series. For Part 2 click here and for Part 3 click here.
On May 22, Pradip (a marketing consultant) and Ujwala (a stay at home mom) became the proud parents of a healthy baby girl named Nina. She was an intelligent girl who was alert and social from the first day she was born. Friends called her a little ball of energy as she was curious about everything in her environment and loved to be around people.
At the age of 3, her parents welcomed Nina's younger brother Rohit. She was so excited to meet him and was eager to be the sole caretaker of her new little sibling. In fact, she was so eager that sometimes inadvertently, she would play too rough or talk to loudly and scare Rohit. When he cried, especially if it was because of something she did, she also became very upset.
One time, when she was about 5 years old, she was playing with Rohit when she accidentally dropped one of his toy cars on his hand. He began to cry out of pain and their mother came quickly to soothe him. She took him to the bathroom to put on a bandaid and when she came out, she saw Nina cleaning up all of the toys, including the ones that only Rohit had played with.
"What are you doing, Nina?" asked Ujwala quietly, noticing that Nina looked sullen.
Nina looked up with her big brown eyes and said, "I'm cleaning up all the toys. It's my punishment for hurting Rohit."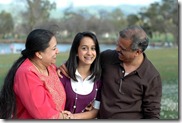 As she grew older, Nina's sense of compassion, care-taking and responsibility to others only grew. She was well-liked by her peers and was successful academically. In addition, she balanced numerous extracurricular activities including ballet, piano and art classes. Her parents were very proud of her and encouraged her to reach her full potential in everything that she tried.
They were an upper-middle class family living in an area that was culturally diverse. Her family moved only once: from Pradip and Ujwala's first townhouse into a semi-custom home when Nina was 8 years old. The parents did not want to spoil their children, but they knew they wanted their children to have all the luxuries that they could not afford as children growing up in India. Because of that Nina and Rohit grew up with a wide variety of toys and were encouraged to take up as many activities as they could manage. Ujwala and Pradip also wanted to instill their Indian values into their children so they spoke in Hindi at home and made sure to celebrate both Indian as well as American holidays so their children grew up  experiencing both cultures. They primarily had South Asian family friends, but encouraged their children to meet people from all cultures when they started going to school.
Out of all of her family members, Nina was closest to her brother. Being only 3 years apart, they shared many common interests and activities, especially as they got older. She was next closest to her mother who had a quiet demeanor. Although she would never admit it, Ujwala was an extremely strong person who often did not recognize her own strengths. Her strength is something Nina drew upon in her teenage and young adult years when she had to make difficult decisions. While they did not have a "girlfriend" type relationship with each other, Nina knew she could always talk to her mother, but usually she chose to talk to Rohit first.
Nina's relationship with her father was more complicated. She loved him and identified with him especially because their ways of thinking and conceptualizing the world were very similar. However, she also resented him a little for his short-temper and impatience, something that she wished she had not learned from him.
One night, when Nina was 20, she came home from college for the weekend, and saw the scene she had seen almost every night of her life. Her dad was seated in front of the TV while her mother was in the kitchen cooking dinner. Rohit was in his room studying. It was the standard scene at their house.
Ujwala came out of the kitchen and asked, "Pradip, would you like naan tonight or roti?" Nina's father, waved her off and said, "It doesn't matter."
"It doesn't matter at all?" Ujwala asked again.
"No!" answered Pradip with a slightly annoyed tone.
"Ok," sighed Ujwala as she retreated back into the kitchen. Before she walked in, she turned around and asked, "Leftovers are fine with you right?"
"Ujwala, can you stop asking me so many questions? I would just like to relax after a long day's work and watch some baseball," Pradip turned around and said firmly.
Nina saw her mother shrink in size a little as she went back to heat up the food. She followed her mother and started helping her with the food.
"He's always been like that," her mother said with low energy. "He just doesn't like to be bothered when he comes home from work."
"Ya I guess," replied Nina, "but he shouldn't be so rude about it."
"Nina, he's your father. Don't call him rude," Ujwala said firmly.
"I'm not calling him rude, I'm saying what he says to you is rude. You have to tell him to stop!" said Nina, sounding like an adult to her mother for the first time.
Nina walked out of the kitchen to have a talk with her father. Because Nina's personality was so similar to Pradip's, she was able to speak more openly with him than anyone else in the family could speak with him.
"Baba, why do you have to say it like that?" asked Nina sitting down next to him.
"What?" he asked without removing his eyes from the TV.
"She's just asking what you want to eat. She knows you've had a long day. She just wants to know what would make you happy," she said compassionately. She saw her father's face that was hardened with stress, soften. He didn't have to say anything, but Nina knew she had gotten through to him.
He went into the kitchen and told Ujwala that roti would be nice.
"Can't believe you got him up from the sofa!" said an incredulous Rohit who was standing behind Nina.
"He may never actually cook the food, but the least he can do is help Mummy know what to make," replied Nina. Rohit nodded as they both watched their parents reconnect and de-stress together.
"So are you ready?" asked Rohit in a lowered voice.
"Oh ya, I can't wait to tell them," Nina responded sarcastically. She sighed and said, "It could go one of two ways. Either they scream and yell and disown me, or they will want me to get married tomorrow."
"Sounds like great options to me!" said Rohit jokingly as he walked into the kitchen.
To be continued…
We would love to hear your response to this article! Please feel free to leave a comment.
Related Articles: