MySahana, a nonprofit organization dedicated to increasing awareness about mental health, emotional health and well-being in the South Asian community, was founded by Parijat Deshpande on January 25, 2010. Click below to learn more about MySahana.
What is MySahana's Mission?
MySahana, meaning "my fortitude or patience" in Sanskrit, is a nonprofit organization designed to reduce stigma and increase awareness about emotional health and wellness in the South Asian community. Through easy-to-understand descriptions of numerous emotional health issues, educational workshops and culturally sensitive coping strategies, we hope to empower the South Asian community to realize their inner fortitude, take charge of their mental health and make better and more informed decisions for a healthy lifestyle.
What is MySahana's Vision?
Our vision is for a South Asian community that has accurate information about emotional health and wellness and that has the knowledge to make informed decisions about their mental and physical health.
Who is on MySahana's Board of Directors?
Parijat Deshpande – Board President

Alka Mathur – Board Secretary
Mital Makadia – Board Treasurer & Legal Counsel

Erin Polis – Director & Marketing Consultant

Who are MySahana's Volunteers and Interns?
MySahana is a 100% volunteer run organization. Volunteers and interns come from a variety of professional and personal backgrounds ranging from psychology to business to finance, from college students to retirees. We are eternally grateful for our volunteers who work tirelessly for MySahana.
Please meet our board members:

How Can I Be A Part of This Groundbreaking Movement?
There are many ways you can join the movement and help increase awareness about mental health in the South Asian community.
* Learn about our volunteer/intern program
* Become an event volunteer

* Provide a donation
* Attend our events

* Pass on MySahana's website link to as many people as you can to help spread the word 

* Talk to your friends, family, coworkers, and peers about mental health to remove the stigma 
Where is South Asia?
South Asia is the region consisting of the following countries: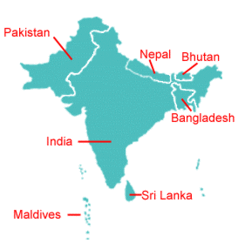 Pakistan
India
Nepal
Bhutan
Bangladesh
Sri Lanka
Maldives
FAQ
Does MySahana provide counseling services?
No, MySahana focuses on providing education and spreading awareness about mental health issues in the South Asian community. We believe that by correcting misinformation and providing accurate education, South Asians are more likely to seek mental health services. For a list of South Asian mental and physical health professionals, please view our Resources section.
What does MySahana mean?
In Sanskrit, Sahana means patience or fortitude.
Where does MySahana's funding come from?
MySahana's primary source of funding at this time is from private donations. Please visit our donation page to provide a 100% tax-deductible charitabl gift.
How can I get an interview with MySahana for our publication?
Please visit our press page for information on scheduling media appearances and interviews.
Where is MySahana located?
The organization is based out of the SF Bay Area. Our address is:
5500 Stewart Avenue, Fremont, CA 94538
I don't live in the Bay Area. Can I still volunteer?
At this time, we are requiring all volunteers to be local. We are hoping to grow over the next year or two to be able to support volunteers from outside of the area.
What else does MySahana do besides write articles for the website?
We have a monthly e-newsletter that is produced entirely by our volunteers. It contains information, tips and advice that is not available on our website. Click here to subscribe to the newsletter. In the future, we hope to be able to lead workshops and seminars, moderate discussion forums and host events.
Who writes the articles?
Articles on the website are written by Parijat Deshpande, the Founder of the organization. Volunteers on the Literature Review committee write the articles in the e-newsletter.
Why are there recipes on the website?
Food and mood are intricately connected. Often how we feel is closely tied to what we eat. MySahana strives to encourage South Asians to engage in healthy habits, whether that be learning how to manage emotions better or to eat healthier.