Why are sweet potatoes good for mental health? Why does MySahana have recipes on the website?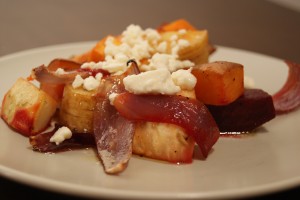 2 parsnips
1 sweet potato
1 celery root
2 small beets
1 red onion
1 Tbsp white balsamic vinegar
2 Tbsp olive oil
1/2 Tbsp dijon mustard
salt and pepper
1/4 cup feta cheese, crumbled
Preheat oven to 425°F. Cut parsnips, sweet potato, celery root, beets, and onions into 1 inch pieces. Place in roasting pan and toss with olive oil, salt and pepper. Roast all vegetables, stirring occasionally, until they start to brown, about 30-40 minutes. Whisk 1 Tbsp of olive oil, white balsamic vinegar, dijon mustard, salt and pepper together. Drizzle over vegetables and top with feta cheese. Eat warm or at room temperature.
We would love to hear your response to this recipe! Please feel free to leave a comment. (Comments can be left anonymously if you type "anonymous" or just your initials into the name box).