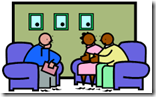 Finding a therapist can be a daunting task, especially if it is your first time. Because of the stigma associated with mental health, personal referrals are rarely made and each client is left up to themselves to find the right professional for them. Here is a basic guide on how to find the best counselor or therapist for you.
Insurance/Internet Search. Unless you have a very open friend willing to share their experience with a therapist, most clients will have to start from the beginning. Each insurance carrier will have a mental health benefit section and a list of in-network providers. If you are willing to pay out of pocket, you can do a basic internet search for therapists in your area.
Know your preferences. Some South Asian clients prefer to see South Asian counselors because they are more comfortable with someone in their own culture. Others prefer the exact opposite for the reason that it feels too close to home. Some have preferences for age, gender or experience. Know what will make you comfortable to help you narrow down your search.
Make the initial call. If the client is a child, the parent must call on behalf of them. In all other cases, the client must call the therapist directly to have an initial phone conversation. This is important so the client can get a feel for the therapist's style over the phone and the therapist can best understand the client's concern. Expect to give a brief explanation of what your concerns are and your goals for therapy. Clients are welcome to ask the therapist questions on the phone as well to determine logistics as well as identify if it is a good fit. Common questions include what type of therapy they practice as well as if they are Board Certified in your state. Most times this initial call will result in leaving a message and the therapist will return your call if they are accepting new clients.
Be comfortable. Beyond education, experience and demographics, the best prognosis in counseling is when you are comfortable with your therapist. If you have a specific type of therapy you are hoping to engage in (e.g. CBT or EMDR) you can ask if the therapist practices that. It is also legitimate to ask about the therapist's background and how long they have been practicing. You may also wish to ask how many clients in your situation they have worked with and successfully helped. Generally, your gut will tell you if you are comfortable with your therapist or not. It is also acceptable to make one appointment to test out the counselor before you officially commit.
Make the appointment. The first appointment can be a trial run to see how good the fit is between you and the counselor. In this appointment, you will be asked to provide details about your history and background regarding your concerns. At the end, you can make a decision of whether you wish to continue with this therapist or not. If you are not comfortable, it is best to find a new counselor.
Know the red flags. Counseling is not a long term contract and the client usually has say in whether they wish to discontinue the work together. One of the most common reasons clients end therapy with a particular counselor is because they see one of the following red flags.
– Contrary to popular belief a good counselor is not supposed to tell a client what to do, think or feel.
– Counselors are supposed make clients feel validated not stupid, silly or invalidated for what you think or feel.
– You are paying for your time to talk about your situation. Your therapist should not use this time to talk about themselves excessively.
– Inappropriate touching, flirting or any other inappropriate behavior is a sign that you should end counseling with the therapist immediately.
MySahana has a list of South Asian service providers nationwide for your convenience and we are available to help answer any questions so that you may contact counselors more easily if you so desire.
What are some other tips to finding a counselor? Please leave your comments below.